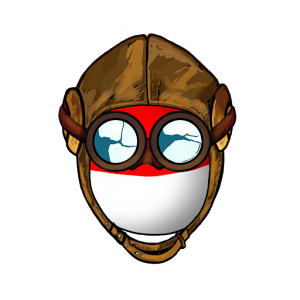 Rating: 4.8/5
Polandball ad-free with 1000 coins drops from $2.40 to FREE. The internet-born and beloved countryballs comics (geopolitical satire) finally have a game to properly represent them, Polandball: Can Into Space! Break through Earth's atmosphere to prove other countryballs once and for all they were wrong and conquer the final frontier!
Features:
-Visually representative of the original comics, with an extra touch of style and care, keeping their core as authentic as possible.
– Simple, yet effective controls: they thought bees shouldn't been able to fly due to their small wings in proportion to body size, yet the bees don't care too much of what we think about them. By that same principle, a few buttons can lead you to space, trust us.
– Progressive gameplay: Upgrade your rocket. You start with humble ship building materials, but humbleness can achieve great things if you add a touch of perseverance (and a bit of upgrades). 9 tiers of tech layered into multiple ship components will break or make your adventure, therefore explore, collect, upgrade and plow through your obstacles.
– 25 countryballs are sparsed throughout the game, some with the intention to aid you in your quest, while most will do their best to stand in your way through various means. Learn which is which. Some are bad some are good, discover them
Space awaits you. Can Polandball into space?
Key Features:
# 56 items to upgrade Polandball's rocket
# 33 attributes to enhance your rocket
# 25 countryballs with different behavior
# Collect coins, fuel, burgers and magnets
# 3 Types of movement: Arrows, Touchscreen and Accelerometer
# Cool User interface
# Cool End Movie for fans who finish the game.
http://android.giveawayoftheday.com/polandball-can-into-space/