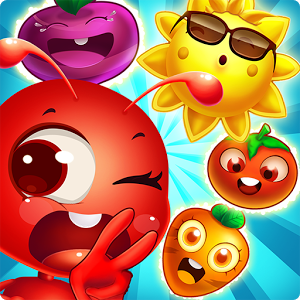 Rating: 4.3/5
The Ant's are back and they're more hungry than ever!
Join the world of ant's farming with amazing characters where you will become a Antastic farmer. Raise, harvest a garden of cropsies, explore the underworld of ant's paradise. Candy, Jewel and Harry are three ants in charge of the farming in this big adventure.
Today the ad-free version with 50 gems drops from $5.99 to FREE!
Move through this Antastic super game while collecting as many Cropsies as you can. Be aware that Bob the mole is always trying to spoil the precious underground Farm Lands, stealing as many Cropsies as he can along the way. Will you join forces with the Farm Heroes and help to collect the Cropsies and save the day? Play through hundreds of levels of switching and matching farming fun to find out! Help them in their mission to grow the biggest Super Cropsies and collect more cropsies to feed their baby ants. Take on this antastic Super Saga alone or soon play with friends to see who can get the highest score!
Exciting new powerful booster, see who can harvest the most Cropsie! Frant's garden is completely free to play but some optional in-game items will require payment.
Frant's garden features:
• Antastic game modes and super cool Cropsies !
• Over 100 amazing new levels
• Collect all kinds of Cropsies to win the level before you run out of moves
• Rechargable super powerful boosters, special power ups to help you win those challenging levels
• Easy and fun to play, yet challenging to fully master
• Acres of luscious levels to complete – more added every 2 weeks!
• Leaderboards to watch your friends and competitors!
• Easily sync the game between devices and unlock full game features when connected to the Internet
• Tasty cropsies graphics that will leave you hungry for more
LANGUAGES: English, French